GRATOUR MINI TRUCK CARGO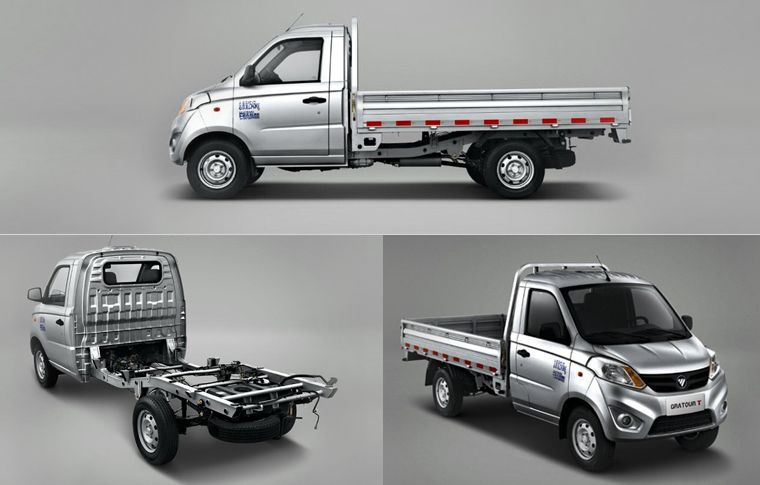 Foton Gratour T3 is mini-truck with one cab, manual driving which helps low cost on fuel, additionally, you can install any type of box goods. It is very convenient to use in town or city placing safety and reducing accident and traffic. It stands out as known as, efficiency, low cost, safety, flexible and affordable.
It's very useful mini-truck to help delivery in town/city more road safety and look neatly for a beautiful road city.
It's very smart choice choosing Foton Gratour T3 deliver your goods/products efficiency.
High Effecncy Power
Optimized intake system: Modular design of intake pipe,with engineering plastics substituting the conventional metal,effectively reducing the pipe wall resistance, enhancing theintake efficiency and increasing the engine power.
Volkswagen racing car-level DOHC technique, high speed and fast acceleration; 16-valve technique allowing instant power, high torque and excellent acceleration characteristics.
ENGINES INDEPENDENTLY DEVELOPED BY FOTON
Intelligent and optimize MPI technique allowing precise oil injection; variable intake PDA, reducing the fuel consumption. Compared to like products, PT engine combustion efficiency increasing by 8% and overall fuel consumption reducing by 6%
Excellent air filter performance prolonging the engine life; 55L tank allowing longer driving mileage; bearing type auxiliary water tank and double speed electronic fan enabling better air removal Effect.
PERFORMANCE
Freight vehicle expert
Professional freight vehicle, new design.
True short-head mini-pickup truck.
Strong chassis: Integratedly formed rectangular tube longeron, reinforced tube type rear axle, integrated primary and auxiliary 5-leaf spring rear suspension, and etc
Load capacity
Large cargo compartment: For all the short-head mini-pickup freight vehicles, it has the maximum capacity of 2800*1560*36 mm, capacity of 1.5T ,individual design for cargo compartment and body, high strength,
high cargo-carrying capacity, standard cargo compartment configuration, and other practical designs which are more suitable for carrying cargos.
Ultra long endurance: 55L high-capacity fuel tank, never rusted, safer, maximum endurance mileage of more than 700KM
Platform
1.0T
Type
Flat cargo
Engine
Model
G03-1.2L
Fuel Type
Petrol
Power (Kw/rpm)
63/6000
Torque
112/4400-4400
Displacement(ml)
1206
Body
Cabin
Single cabin
Seating arrangement
2
Dimension(mm)
Overall mm - 4386×1650×1975
Cargo mm - 2300×1560×360
Wheelbase mm -2650
Weight & Loading
GVW (Kg) - 2505
Payload(including staff)/kg - 1425
Curb Weight/kg - 1080
Gearbox
5MT
Brake
Front Disk rear drum (vacuum booster).
Suspension
Front McPherson independent suspension. Rear leaf spring suspension
Chassis
Power Steering
175R14LT
Wheel
Steel wheel (with cover & logo)
Interior
Interior trim
Molded interio trims (only for front door shield panel). Door ill decoration
Front Wheel cover decoration
Carpet
PVC. Manual anti-dazzling
Rearview mirror
Cupholders
Fast food board
Store content box
Roof
Hemp fiber board + leather, molded hard roof (washable)
Co-driver handhold
Sun Visor
Common sun visors (with paper clip at the driver's side), 2 nos
Seat
Seat Fabric. Flat Fabric
Driver seat - front/rear adjustable, backrest angle adjustable, head rest 4 levels. Front/rear unadjustable
Exteriors
Lamps and lanterns
Headlamps
Front lamps
Rear lamps
Front turn lamps
Rear turn lamps
Side turn lamps
Brake lamp
Back light
Back reflecetor
Headlamps adjusting device.. Manual
Front fog lamp
Rear fog lamp
Window
Manual
Fender
Front fender
Rear view mirror
Manual control. Black colour
Front grill
Black colour (with leather pattern)
Door handle
Black colour. (with leather pattern)
Painting
Metallic paint
seat belt
Driver and core driver seats. 3 points safety belt
Outer door handle
Black leather (with leather pattern)
Steering wheel
Steering column lock. PVC
Door lock
Common door lock. Warm braw
Audio device
Two speakers. Radio+AUX+USB
Combination instrument
Engine tachometer
Cigarette lighter
Portable ashtray
Wiper
Front wipers