1.5 TONS SINGLE CABIN TRUCK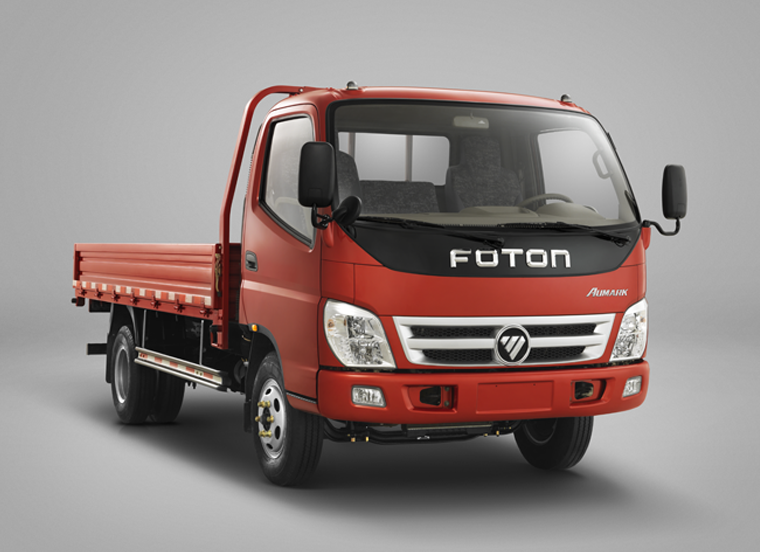 Aumark TX Aumark TX is perfectly suited for organizations and individuals in need of an agile and efficient solution for product deliveries, enabling them to expand their reach and access new opportunities.
Aumark TX operates comfortably in extreme temperatures. A wide choice of chassis and broad engine HP coverage is offered in order to meet operational needs. Aumark TX's strong chassis and Perkins technologically optimized Lovol engine deliver strength, power and reliability, along with a large loading capacity. The noise-reduction systems, sedan-style interior trim, comfortable driving assistance systems and brake security mechanisms allow the driver to operate the vehicle in comfortable and safe conditions.
Value
Efficient solution for distribution
Choose the model that best fits your needs Optimized chassis and engine Enhanced comfort.
Can operate in ultra-high or ultra-low temperature areas
Chassis
Optimized chassis suspension using Mercedes-Benz heavy-duty truck technology
New special steel alloy
Strength of the chassis frame increased by more than 52%
Load sensing repartition valve
Leaf spring span increased by 60cm
Carrying Capacity
Large rear axle provides stronger load-carrying ability
Large cargo body with large storage space
The 8.25-20 large tires increase carrying capacity
Engine
Lovol engine
Employs Perkins technology
Maximum torque up to 445 N.m
Power up to 137 HP
Increased acceleration power and gradeability
Power increased by 14.8%
Maximum vehicle speed increased by 15.6%
Engine optimized to keep rpm low in order to keep piston friction and fuel consumption low
Two-step filter device increases air filtration efficiency and enhances engine durability
Excellent cold start performance
Brake
Highly reliable advanced four-circuit valve brake system
Front wheel disc brakes have excellent fading performance, cooling performance, braking efficiency, noise levels and are easy to maintain
Optional front disc brakes and rear drum brakes
Comfort
Comfortable to drive
Driving comfort accentuated by power steering and vacuum clutch booster systems
High-roof cabin
High-density folding seat
Brand new dashboard style
Sedan-style interior trim
Wide angle door opening
ABS
Reverse sensor
CD player
Electric windows
Central lock
Noise Reduction
Outside noise reduction
Sound-reducing multi-layer composite material used for the cab roof
New generation high mounted intake pipe with built-in intake silencer
Aluminum foil and cellucotton materials used in the engine compartment to improve noise reduction, anti-moisture and anti-vibration properties
Body
1800mm and 1995mm wide streamlined body
Vehicle model
BJ3043D8JB5
Product positioning: short-distance transportation or transferring of agricultural and sideline products and construction materials.
Working condition: rural roads, pavement of sand/cement roads and mountain roads.
Engine
Engine model and emission
BJ493ZLQV1
Engine type
Four-cylinder/ vertical/in-line/water-cooling/ four-stroke/ supercharged intercooler/VE pump
Rated power of engine (kw/rpm)
76/3600
Maximum torque (N.m/rpm)
225/2200
Engine displacement (L)
2.771
Gearbox
Gearbox type
LC5T88
Gearbox speed ratio
i1=5.529,i2=2.782,i3=1.641,i4=1.000,i5=0.785,iR =5.271
Rear axle
Rear axle type
Dead axle full float axle
Rear axle load (T)
3T
Rear axle speed ratio
5.571
Dumping type/oil cylinder size
Double-acting oil cylinder/2TG/-80×420
Cabin type/width (mm)
Left side driving, flat head,single-row/1860
Drive form
4×2
Tire type/number
6.50R16/6+1
Service brake type
Drum type, hydraulic braking
Parking brake type
Central drum type braking
Steering device
Power steering
Weight parameter
Curb weight (Kg)
2560
Rated load capacity (Kg)
2000
Performance parameter
Maximum speed (no load)(km/h)
105
Maximum gradeability (%)
27%
Minimum turning radius (m)
5.8
Minimum ground clearance (mm)
200
Maximum lift degree (°)
48°
Dimension parameters
Overall dimensions (LxWxH)mm
4790×1960×2260
Internal van dimensions (LxWxH)mm
3000×1860×450
Van capacity (m³)
2.5
Wheelbase (mm)
2600
Front/rear wheel track (mm)
1664/1555
Front/rear suspension (mm)
1190/1000
Rated voltage (V)
12
Capacity of the fuel tank (L)
80
Standard configuration
Electronically controlled flameout, spare tire, adjustable steering wheel, braking with exhaust,heater