18 SEATER VIEW BUS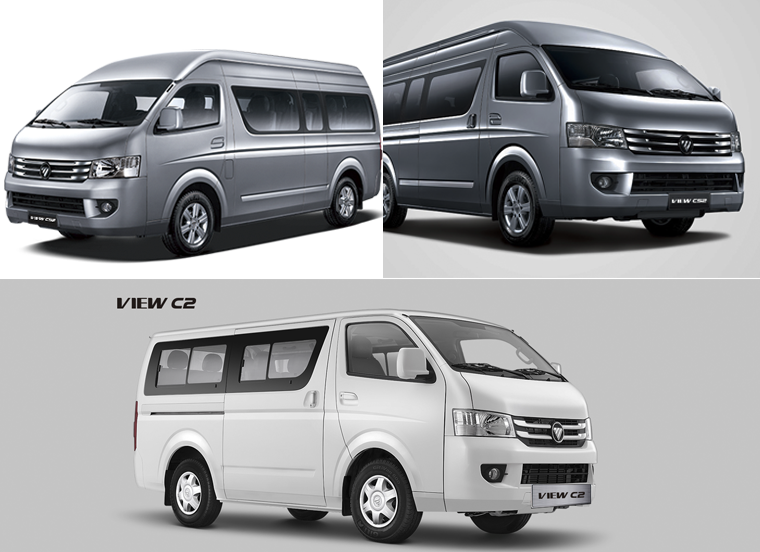 The VIEW CS2 is the 4th generation of Foton's famous vans brand - VIEW. The VIEW CS2 has a great design and combines performance and comfort. Featuring leading technologies such as the Cummins engine, the vehicle provides enterprises, public agencies and individual customers with great value, high efficiency and a fantastic driving experience.
Diesel Engine
The View CS2's powerful 120KW Cummins ISF 2.8 diesel engine is the strongest in the class of engines with displacements below 3.0L. It also has a maximum torque output of 360 N.m, which is 22.5%-60% higher compared to similar products. As a result, the Tunland can easily handle harsh road conditions.
Technology:
The View CS2 features the latest turbocharger intake system. The electronically controlled, high-pressure common rail fuel injection system by BOSCH guarantees the best performance.
Modular design:
The powertrain is based on a modular design concept. It has 40% less components than other similar products. The engine is also 10% lighter than the ones used in similar pickup trucks. Thanks to its special design, it operates at extremely low noise and vibration levels. Maintenance of the engine is easy and cost efficient.
4G69 Gasoline Engine
This model features a 12-hole particle fuel injector and EFI technology.
The exhaust system features a dual tubular exhaust manifold with a catalyst converter.
The Intake system is based on the MIVEC (Mitsubishi Innovative Valve Timing Electronic Control) system with 4 cylinders and 16 valves.
2. 8 L Cummi ns engine.
18 SEATER (Available in Cargo Van)
BEYOND BIG.
Inherited from legacy and devoted to innovation,VIEW CS2 manifests an air of elegance in every designing detail. The pursuit of perfection in space, performance, safety, and workmanship never ends.
Brand
VIEW CS2
Type
BJ6549B1PDA-A
Body
Wide-body & High roof
Back door
Lifted back door
Sliding door
Single sliding door
Model(CUMMINS)
F2.8
Fuel type
Diesel
Power(Kw/rpm)
96/3600
Torque(N·m/rpm)
280/(1400~3000)
Displacement(ml)
2780
Transmission
5MT
Main technical parameter
Dimension parameter
Design body external dimension(mm)
5380×1920×2285
Wheel base(mm)
3110
Mass parameter
Total mass (kg)
3400
Kerb mass(kg)
2255
Capacity (Person)
18
Type of the last seat
Independent seats
Power performance
Max.speed(km/h)
≤150
Function configuration
Chasis system
Wheel assy
Tyre
215/75R16C
Aluminium alloy
●
ABS+EBD
●
Interior trim
Type
Ordinary gray
●
Full package interior
●
Polyurethane + non-woven
●
Steering wheel
Adjustable
●
Genuine leather
●
Carpet assembly
Chemical fiber
●
Seat fabric Knitting
●
The whole car seat belt
●
The number of sun visors
2
Body and accessories
Door handle
Chromed
Door glass
Tawny
Front and rear bumpers
body coloured bumpers (without striae)
●
Remote controlcentral locking (integrated key)
●
Electric (Manual folding)
●
Electric window
●
Chrome casing
●
Rear attachment
Rear wipe + Rear washer
●
Rear defroster
●
Rear mirror
●
Safety
Airbags
Driver's air-bag assy. Assistant's driver air-bag
●
Reversing radar(singing)
●
Burglar alarm
●
Body sound and light alarms
●
Comfort
Air-conditioner system
Air conditioner
Front and Rear
Warm braw
Front and Rear
Each row independent outlet
Audio device
Radio + AUX + USB
●
CD
●
6
●